March 16, 2019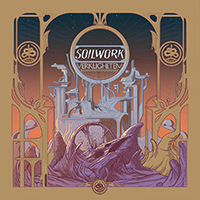 The mood of adventure, the memories of past adversities are intertwined into the ornate mood of adventure title track's entry. But then the sparkling reflections of the metal are embodied in the epic story of the Arrival composition, reflecting the true essence of the Soilwork - Verkligheten album.
The pulsating waves of the Bleeder Despoiler drive are paired with the harsh growling vocal phrases and the dreamy reflections of clean vocals.
An epic musical canvas begins with reflections of clean vocals, then weaves a growling note into his narration, but stopping it at the leading edge of the Full Moon Shoals composition.
The inspirational tape of the The Nurturing Glance main motive is unwound from the introduction, relating the sound to the expanses of traditional rock, but complementing it with a harsh growling. But then the dreamy phrases of clean vocals expand the sound of the composition.
Bright and inspiring passages of the main motive create enchanting spaces for the development of the When the Universe Spoke composition canvas, then a wave-rushing drive interlaced by the harsh drive of fierce growling. But in the chorus, the main motive comes back, screwed on with the enchanting passages of clean vocals.
The epic narration of clean vocals envelops the adventures of adventure, but it tells Stalfagel vivid story, leaving screaming and growling in the background.
The vocals immediately occupies a dominant position in the narration, intertwining the clean vocals in the verse and cutting the questions by growling in bridges. In the The Wolves Are Back in Town chorus, these stelistics are intertwined.
Experiences in the Witan intro calls for reverie in a verse and sublime inspiration of tunes in the bridge. Chorus inspiredly completes this narrative with a magnificent procession.
Throwing stereotypes and expanding the stylistic horizons of the album The Ageless Whisper weaves a fascinating canvas of many styles and genres. The fascinating whirlwind of the Needles and Kin (feat. Tomi Joutsen) main motive invites frantic growling phrases, then enveloping you with the charming passages of clean vocals.
The final composition of the album You Aquiver (feat. Dave Sheldon) was dominated by clean vocals, complemented by occasional hints of melodies screaming and growling.