September 22, 2016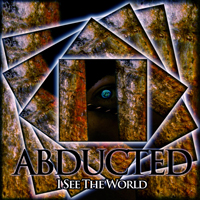 Would you like to say that Abducted - I See The World ? That's nice try to do so - you'll bet!
Slowly and unquestioningly painful oppressive atmosphere distribute The Struggle To Maintain influence around, subordinating its irresistible influence of everything and everyone.
Panic Attack (Part I) unexpected and unpredictable guitar breaks and passages built tower with incredible structure and quite amazing proportions, juggling spikes of their riffs in the instrumental saga. While continuing furious guitar madness, music tells all of us As Humanity Falls. Broken rhythms supports instrumental madness and vocal experiments, mixing screaming, harsh and growling in the single fine musical image.
The Illusion Of One rhythmically driving a strained vocal phrases by powerful rhythmic beats, making surrounding reality certainty by tough steps. Then, a few music accelerates its pace, acquiring branched guitar passages and melodic structure changeable inclusions, dragging his canvas volatile until the very last moment.
Title track I See The World emits lyrical memories by rays of broken consciousness. Melancholy envelops in its realm with exalt melodic tune and gentle clean vocals in that dreamy ballad.
Panic Attack (Part Ii) continues melodious lyrics at the intro, then thickening dyes and alternating tempo changes. After the alternation of outbursts of anger and violent jerks exalted bright light instrumental solo takes part, reinforcing its momentum with the increase in the luminous flux. But then the wrathful existence returnes again at the forefront to finish instrumental saga.
Beginning with zealous violent explosion growl Mental Walls turns into an emotional outburst with clean vocals, still thinking about the fate of the world calmly and thoughtfully. Then it makes a growling inclusion in quiet ballad doubt, without interfering with the delightful melodic riff run their way through the thorns to the stars. Then growling zeal returns to the fore for a bit, so that 2 ways combine their ways in single direction. Then clean vocals ends the entire track with its emotional passage.
The peaceful scene Solace Of Night brings suburban tranquility on the wings of birds and insects, that hovers in the evening glow in a fuzzy lamp light into the Clarity that calms all emotions with its cheerful guotar fingering in calm peacful melodical tune.
Melodious emotional ballad Astro Incision reinforcing the impression and concentrated shades with several growling inclusions, then ends the album with sublime guitar fingering break.