June 01, 2018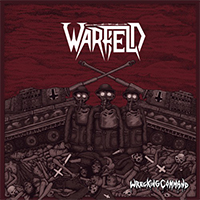 Unrestrained streams of rage and inescapable urges appeal to disassembly. Vocals somewhat broadens the stylistic framework - your humble servant attributed the Warfield - Wrecking Command album to the ferrous metal rather than to the trash with the title's track.
So dense stream of drive sweeps away all doubts, complements the veneration of the verse with notes of meditative melody, the vocal raises this epic Self Deceit Race to uncharted limits. This combination is so brightly connected in the bridge and the chorus - it's necessary to listen th that's song! The Barrage Fire main motive is mesmerizing in its development - but it's worthy and exciting! It is worth listening to again and again - this majestic enveloping of rage - many having listened will not understand what I meant! Others - they will worship and shake hands!
Continuing this enchanting unification of styles (to which your humble servant will give the YEARS of listening!) Divine Winds begins the composition with a wave of drive, continues - but sometimes fascinates with the instrumental ideas of bridges! The introductions reveal in part the powerful urges of the main motive, rolling with unrestrained Call To War waves. There are some reflections in the chorus, the thoughts that have gone away in the chorus, but the main motive is being carried away in an unrestrained melody! Atomic Strike continues the flow of drive, gathering together thoughts - combined vocal phrases. But the enchanting melodies envelop this drive in an exciting sound.
Rolling over the perturbed waves of entry Vision Genocide in frenzied mrshe continues his reflections - worrying and rolling out his thoughts in a rigid canvas. Under The Surfacemore persistently and rapidly continues the waves of drive, interrupting them with bursts of melody, then combining these different musical streams.
Reloading, clicking the drop of the cartridge case - then the Trade In Blood wave of drive is dragging into something that can not be resisted! There's no nead to tell about - that's so great!
Completion of the album in the Martyr song brings a touch of epic - while retaining the charm of an uncontrollable trash! So far, for your humble servant - the album of the year!