December 21, 2017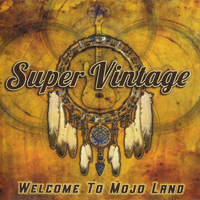 The enchanting riddle of Southern Moon Rising intro begins the Super Vintage - Welcome To Mojo Land album, creating a romantic atmosphere of memories, which are betrayed in the chair on a hard day's night.
Introducing the motives of country songs Delta Mud brings the perception back to familiar places, then changing into a denser musical outline, giving power to the original motifs.
The main motive manifests itself fully in the Son Of Pain introduction, before the vocals with their parties complement the sound with emotions and emotions we hear a melodic and enchanting guitar solo.
Kiss Your Bad Feelings Goodbye continues music in the similar style, slowing down in the ends of tacts for frank and confident speeches of vocals, then dancing in a cheerful drive of musical rest.
Enchanting romance surrounds with a wonderful and magical atmosphere memories of a field of miracles and a wonderful earth, surrounded on all sides by incredible promises. And, despite the prediction in such incredible conditions, the band's leader Still Alive!
Guitars confidently and persistently forces Let Me Be What I Want To Be musical whirlwinds, circling rally-united sections in a single vortex around vocal phrases.
The ever young, unyielding and demanding Rock 'N Roll Revolution spirit does not leave for a moment, in the choruses the vocal of a preacher of this direction is supplemented by angelic female vocals.
Eternal Living Like A Gypsy wanderings, road dust, piercing with scorching hot vortex soul and body creates a restless atmosphere, singing in a song.
Almost title track Mojo Land, where the band invites us to a kind of excursion creates a kind of legend of the bard of the wild west, after a short introduction, the vocals and instrumentals splash out the power of the hot waves of their parties, singing with the charm of their sound, complementing the guitar and vocal motifs with sublime keyboards.
Approaching the ballad River Of Love composition with thoughtful vocal phrases begins its enchanting sound, most fully revealing the musical potential in the guitar solo of the instrumental part, followed by a certain wave of discreet drive. The last composition of the album Light Upon My Soul completes the romantic endeavor, transferring us to the expanses of love hopes and romantic thoughts.