December 20, 2021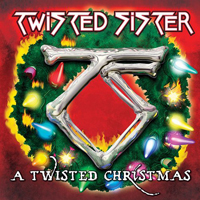 Preparing for the Twisted Sister - A Twisted Christmas holiday in the circle of friends is peaceful with the enchanting tranquility of the sound of the Have Yourself A Merry Little Christmas song. Then the sound of the Oh Come All Ye Faithful composition introduces the motifs of traditional festivities and puffs up the peculiar shades of the band's inherent drive.
The fragment with the guest singing ladies follows - at first the White Christmas (feat. Doro Pesch) song hardens and condenses the sound a little, then the rhythmic calm of the I'll Be Home For Christmas (feat. Lita Ford) composition charms with stability and confidence of the foundations.
The free-spiritedness and insistence in the sound of the Silver Bells track puffs up the atmosphere of waiting for the coming gifts. The I Saw Mommy Kissing Santa Claus song combines playful atmosphere with fouls of restrained drive, further hardening the sound in the Let It Snow track, bringing elements of heavy metal music to the album while maintaining a festive atmosphere. The Deck The Halls retains the stylistics laid down by the previous composition, complementing the main vocals with the background singing of the musical comrades-in-arms.
The majesty of The Christmas Song (Chestnuts Roasting) solemn musical hymn captivates with its unity of musical melody and vocal significance. The Heavy Metal Christmas (12 Days Of Christmas) song assertively, confidently, tightly raises the banner of the coming holiday, enchanting with swirls of bright guitar solo that winds the vocal insistence. Chorales of the Merry Christmas congratulations and applause from the audience anticipate the final composition of the album, White Christmas (feat. Eddie Ojeda Sung In Spanish), which is completing the atmosphere of the festivities by expanding the linguistic lyrical component of the album.