January 16, 2022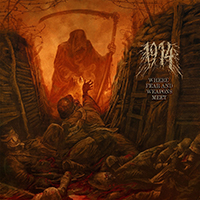 The lyrical melodies of the War In song begin the musical narrative of the 1914 - Where Fear And Weapons Meet album, ending with the cries of the suffering and anticipating the gloomy sound of the Fn .380 Acp#19074 composition, in which the guitar solo comes to the forefront of the musical image.
The mid-tempo sound of the Vimy Ridge (In Memory Of Filip Konowal) anthem combines musical heaviness with vocal persistence. The enigmatic negotiations of the Pillars Of Fire (The Battle Of Messines) intro continue with persistent waves of twilight drive. The announcer recounts the approach of the American army, then a battle march foreshadows the development of the musical narrative of the Don't Tread On Me (Harlem Hellfighters) song, in which the music swells with waves of unyielding and persistent drive, complemented by the charm of the melody.
This is followed by a fragment of a concept album, supplemented by the participation of guest musicians - first it is embodied in the sound of the Coward (Feat. Sasha Boole) composition, then in the ...And A Cross Now Marks His Place (Feat. Nick Holmes) song the vocalist of the legendary doom metal band takes part.
Beginning with a solemn march, the Corps D'autos-Canons-Mitrailleuses (A.C.M) composition then rolls out in waves of unyielding drive, continuing in the dusky sound of the Mit Gott Fur Konig Und Vaterland song, accelerating in a rushing whirlwind of drive in anticipation of the vocal intro, but then returning to a rhythmic mid-tempo march. The Green Fields Of France composition enters with enchanting bagpipe tunes, then hardening the sound together with the vocal exasperation. The War Out track closes the album in line with its introduction.