January 14, 2022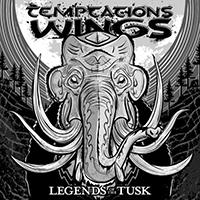 Persistently, tenaciously, insistently and powerfully, the Crush The Weak song marches along a well-defined and confidently chosen path with the rhythmic steps of a battle march, hammering its footsteps into the dusty road, starting the musical narrative of the Temptations Wings - Legends Of The Tusk (EP) musical release with unyielding power, accumulating anger and rage.
The tempo is somewhat tempered and transformed into a more pensive, but more rhythmic and fierce pacing of the musical rhythm in the And Death Rides With Us composition, crowning the viscous and dusky musical waves with confident and meaningful vocals proclamations.
Instrumental track Frozen Wastes Of Death acts as a thoughtful and intriguing introduction to the album's final fragment, in which The Last Titan song brings echoes of Indian motifs with a touch of Eastern folklore, hardening with a tight and harsh rhythm in the instrumental bridges, then introducing the musical nuances mentioned above into the vocal part, then combining music and vocals in a unified stylistic framework.