January 30, 2021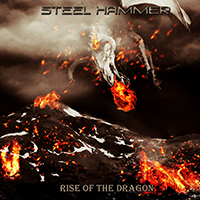 Instrumental motifs of the Legacy Of Hell bewitching symphony twist a bewitching lace of fairy tales and legends, carrying imagination and fantasy on a journey. The title track continues the Steel Hammer (RUS) - Rise Of The Dragon album, starting with an epic intrigue, then rolling out the canvas of a harsh battle march.
The mesmerizing melody of the Nightmare track rolls over in waves of a mid-tempo fairy tale. The charm of the union of legends and symphonic atmosphere is manifested in the music. The Hail The King accelerates the pace, winding the axis of musical narration in a whirlwind of guitar fury, bright and impressive flurry of readiness for trails.
The pensive romanticism of the ballad passages creates a very pacifying and enchanting atmosphere of the Forever Angel track. Keyboard and guitar motives alternates on the foreground of the musical image of the End Of The Line composition. But guitar drive comes to the fore, creating support for the rhythm of the guitar and raising the banner of the guitar solo, leaving the atmosphere of the keyboard passages on the Clash Of The Gods background.
Vague premonitions of rhythm guitar are combined with anxious expectations of the World In Fire melodic guitar solo tunes in anticipation of changes. Guitar solos weave a mesmerizing union of symphonic atmosphere and restrained drive in the In The Shadows music. The Reaper puts the final point of the album, bringing in some elements of a musical thriller, crowned with melodic symphony.