February 06, 2021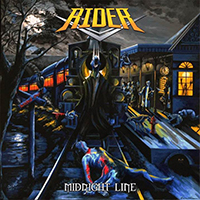 A swift and energetic whirlwind of drive wraps around vocal emotionality, creating the Iron Mask epic tale of the Rider - Midnight Line album's opening. Then the sparkling lace of the instrumental guitar solo complements the music experience. The echoes of the epic sagas contribute to the development of the main motive of the Nighttime Drifter composition, which was then crowned with vocal charisma and its inspired tunes. Weaving an intriguing backbone into the intrigue, the Power of Thunder then races into a wild, fast-paced drive.
Mesmerizing and exciting, weaving the lace of the guitar passages into the intro, the Child in the Night then crowns this narration with the inspiration of vocal phrases, creating the charm of a musical fairy tale. The Flight of Phoenix continues the narration of fairy-tale epics, drawing me into the sphere of legends sung by many previous generations. The mesmerizing guitar solo in the intro creates a lace of musical charm and prepares for the thrilling sound of the Inquisition song.
The bass guitar solo sets the direction for the development of musical variations of the Riders instrumental battle march rolling in waves, crowned with veils of valiant legends. Whipping up a whirlwind of impatience with a guitar solo, the False Messiah song then in a fast-paced race gets to the chorus, in which the title emphasizes again and again. The sound of the introduction sets the direction for the development of musical variations, then the Streets of Nowhere brings the vocal experience to the fore. The Tyrants Falling completes the album with the twilight mystery of the vocal narration, intertwined in dance with musical accompaniment.