December 17, 2021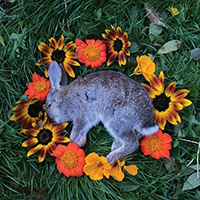 Dusky, visceral, drawn-out, and persistent, The Weary composition begins the Monolord - Your Time to Shine album's musical narrative, building up waves of dusk and carefully rolling out the musical canvas in preparation for the introduction of saddened and dusky prayerful vocal meditations.
Steadily, insistently, and persistently, the To Each Their Own composition rolls out the musical canvas of the main motif for a pensive march of vocals reflections.
The dusky and meaningful intro guitar solo mesmerizes with an artistic unity of forgotten fairy tales and oriental motifs, carefully and painstakingly preparing the listener for the introduction of the vocal story of the I'll Be Damned song.
The mysterious mystical sound of the introduction mesmerizes with the vagueness and ghostliness of the coming sound, recreating hazy echoes of forgotten fairy tales and epic symphonies into the sound of the Your Time to Shine title track sad romantic and sensual ballad. The Siren of Yersinia song concludes the musical narrative with the pressure of the persistent and twilight drive of the intro, which pushes waves of dusk and mystery ahead of the introduction of the lyrical vocal saga.