December 17, 2021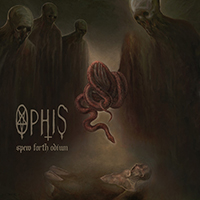 A gloomy and sorrowfully mournful guitar solo begins the musical narrative of the Default Empty dusky tale that opens the gates of the musical procession of the Ophis - Spew Forth Odium album, complementing the musical variations of the dark anthem with the grim severity of the vocal growling.
The Of Stygian Descent song continues the album's musical story with a solemn march through a haunting haze with touches of mesmerizing romanticism in enchanting instrumental bridges.
The insistent, unyielding, and relentlessly rhythmic pulsation of the intro motifs is transformed by the epic charm of the guitar solo, then alternating again and again with similar stylistic contrapuntal fragments in the compositional structure of the Conflagration Eternal song.
The guitar solo of the introduction fascinates with melodic charm, gradually and unhurriedly building the essence of the leitmotif, marching in a confident procession in the musical sound of the Temple of Scourges composition, sometimes allowing the unity of the vocal duet to top its sound, supplementing the sound with emotions and experiences.
In the musical sound of The Perennial Wound twilight tale, the vocal part sometimes comes to the forefront of the musical image, in addition to the musical mystery and mysterious forebodings from obscure omens and twilight prophecies. The Stagnant Room concludes the album's musical narrative with its longest, most mournful and melancholy composition.