June 28, 2022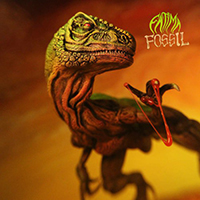 A twilight musical mystery wraps the vocal reflections of the Mongolo Bill song, which opens the Fatima (FRA) - Fossil album, with an atmosphere of mystery and vague omens. The Arch-Vile composition begins with a drum roll with the echoes of a battle march, then marching in a thoughtful tread of enigmatic reflections. The Turks Fruit song continues this thoughtfulness, spicy musical reflections with oriental motifs and basing compositional features on them.
Elevating the oriental motifs even more to the top of the sound, the King Of The Rats musical fairy tale captivates with sparkling musical echoes of forgotten legends and lost fairy tales. The Feathered Fossils composition rolls in waves of uncompromising rebellion, rolling in waves of disagreement with sparkling musical reflections. Speeding up the sound and based on the rhythmic component, the Sacred Chickens song emphasizes the dancing nature of the musical story.
Progressively and brightly whirling a whirlwind of musical passages, the Anasazis composition gives this artistry an additional mystery to the vocal lyrics. The Strawberry Brain Shake song captivates with intriguing musical transformations of the intro, then bringing the vocal part to the forefront of the sound. The We, The Wizards composition bases the musical variations on oriental motifs, giving the vocal lyrics an emotional mystery and creating an intrigue before the persistent and stubborn completion of the album with the Sokurah The Magician (Bonus Track) composition.