October 06, 2017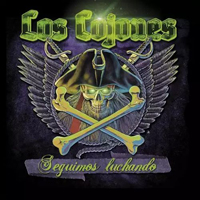 The soft, charming melody begins Absurda Sociedad, first track of Los Cojones - Seguimos Luchando album, continuing with the melodic guitar solos, in the atmosphere of solitude under the sound of rain. But then the stern chariot of rage and drive rolls confidently and rhythmically, then carried away in impetuous impulse.
Quickly and energetically Esperame envelops everything around the dusk, flowing from all sides, the vocal anxiously and restlessly complements the instrumental fears.
The title track Seguimos Luchando continues this wave of anxiety, but the vocal encourages and sends rays of hope and bravery.
The siren, explosions and gunbursts begin a thriller Quien Es el Que Miente, flying on the ghostly wings of television programs, carrying bombs of headlines and shells of newspaper articles.
Soft and enchanting ballad Llevame Lejos distracts from ordinary adversity, reflecting on emotions and feelings. Vocals on the background complement the female voice that does not come out of the veiled fog, without completely developing in a duet. Then the tempo increases and the composition of the slow turns into a mid-tempo.
The impetuous, furious impulse of drive Un Espejismo rushes towards the future persistently, persistently and irresistibly.
Viscous riff in the Echando el Resto intro sways the music in a tornado whirl, confidently in an average pace conquering more and more territories.
The main motive of La Mala Suerte from the introduction reveals its rapid nature, sweeping an uncontrollable whirlwind through the entire composition. The vocals complement the sound with anxious notes. In the instrumental part and the next track, Contigo una Vez Mas, the influence of the founders of the musical genre is clearly felt.
Police sirens, the sound of leaving motorcycle sets a change in the musical style, introducing Te Buscan Vivo o Muerto shades of rebellious trash, the vocal from clean to harsh, the instrumental saga Outro completing the album, thickening musical ideas into impressive instrumental improvisations.