February 09, 2020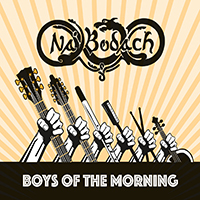 The music of the Bonny Portmore song enchants with a pensive melody, raising to the top of the musical image the reflections of the vocal part. But in the instrumental mochi, the musical passages captivate with exciting melody and complementing phrases of the main vocals with shades of singing along. After a pulsating introduction, Ed O'Donnell's Wake continues the Na'Bodach - Boys of the Morning album with a mid-tempo inspiration for dancing in the tavern. Fitzwater's Ramble retains this atmosphere of dance festivities dispensing with the vocal part.
A pensive sadness of the Arran Boat Song romantic ballad envelops the vocal part with bewitching lace of folklore motifs. But Arthur McBride inspires a pulsating flight of restrained drive and playful musical delights of mesmerizing inspiration, bringing the vocal part to the fore. Preserving the folklore atmosphere King of the Fairies instrumental saga slowly walks through the expanses of fairy tales, captivating with the sound of Celtic musical motifs. Bold Riley brings vocal phrases to the front edge of the musical image, casting aside the musical accompaniment.
Dissipating the difference between eras Shady Grove fuses the sound of several musical styles. The acoustic chime of guitar strings precedes the chants of the bagpipe, combining with them in essence the main motive of The Bracken Set instrumental composition, wistfully wandering through the first half of the song, ending it with a playful chime. Soft romantic thoughts of The Nightingale ballad complement musical passages with a soft mystery of vocal thoughts.
Fierce guitar part of the Spancil Hill song pumps the waves of restrained drive, crowning the main motive with bewitching tunes of the bagpipe. Thoughtfully developing the atmosphere of folklore motifs, after a leisurely, saddened intro, The Atholl Highlanders Set elevates the charm of instrumental inspiration into the sparkling of sunlight. When You and I Were Young, Maggie completes the album with the inspirational sound of a romantic ballad, returning to the sphere of memories of youth.