May 10, 2021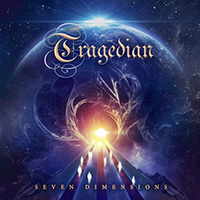 The Rising Rage song's rapid musical drive after melodic additions is the vocal batch on the crest of musical waves. Symphonic shades complements the melodic structure of the Tragedian - Seven Dimension album with charm of musical magnitude, while maintaining the rhythmic essence of a discreet drive and again, the vocals experiences on the top of the Alonenessmusical image. Vocal reflections and musical artistry are fond of the bright sound of the Out of the Dark song.
Music drive wraps vocal phrases with a spiral of a bright sound, setting an impatient pace and inspiration to the rapid sound of the Darkest of My Days song. Starting as a wistful ballad, the Bringer of Dreams track and then accelerates the pace of varying it in union with melodic charm. focusing musical passes around romantic vocal experiences, weaving a lace of the Crying in the Rain charming ballad. In the vocal party of the main male vocal complement the background tunes of a singing lady.
The vocal party goes to the front plan of the Enlightened sound, sometimes with the support of the inspired music accompaniment. Inspiration of vocal story, in addition to the eastern accents of the party creates weights interesting sound of the Forevermore composition. The Destiny intro's guitar solo supplemented with a symphonic background asks the direction of development of the main motive.
Changing lyrics with English to Spanish, the Para Siempre (Forever) uprises in a romantic transformation. Returning to the last lyrics, The Journey is replete with the unity of music and vocals in an inspired narration. Keyboards symphony will take out the symphonic mood of the Forces of the Light final album composition.