May 31, 2022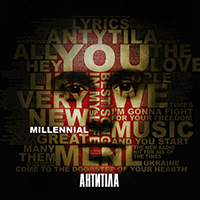 Assertively, persistently and stubbornly, the Топити за своє composition begins the Антитіла - MLNL album, rhythmically driving in the confident tread of a military march. The Кіно song wraps itself in veils of ghostly romance with notes of slight sadness, bringing shades of reggae music into this musical artwork.
Dancing in a futuristic festivity, the Маскарад composition combines the mystique of the verses with the uplifting of the choruses. The Стань romantic ballad envelops the vocal history in the veils of an enigmatic symphony.
The title track of the MLNL album brings the vocal part to the forefront of the sound, complementing the vocal phrases with musical support. The sound of the В неволі song wraps the mystery of lounge music in thoughtful vocal reflections with hints of Tibetan monks' prayers, developing these musical motifs in the Лакрімоза futuristic musical artistry with the addition of spiritual chants.
The intriguing mystery of the Моє musical tale fascinates with the unity of melodic charm and persistent vocals pressure, then vocals reflections come to the fore in the Марафон composition. The playful musical motives of the De Janeiro composition complete the album with echoes of the carnival in Rio.