August 29, 2022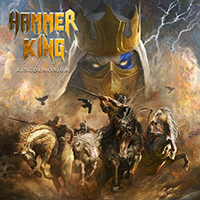 Confidently and excitingly weaving whirlwinds of music and vocals in a single musical stream, the Invisible King song begins the musical story of the Hammer King - Kingdemonium album, alternating guitar solos and emotional vocal parts in the foreground of the musical image, continuing with the confident pressure of the sound of the Pariah Is My Name musical tale the support of the main vocals with background chorales of musical companions, then mesmerizing in the introduction of the We Shall Rise composition with an epic saga, which with the introduction of vocals is complemented by the rhythmic step of the battle march.
After a confident mid-tempo introduction, the sound of the Live Long, Die Nasty epic saga combines vocal emotions with a confident drive of musical pressure. The vocals storyteller begins the musical story of the The 7Th Of The 7 Kings composition with a minestrel ballad, then giving the unhurried musical story armor power in instrumental bridges and choruses. The Kingdemonium title track combines assertive drive with emotional vocals ascension of the main vocals, supported by background chorales.
The mesmerizing Other Kingdoms Fall epic saga wraps the vocal narrative with musical threads, writing its fairy tale into the pages of a music book. The Four Horsemen main motif, manifested already in the introduction, is then complemented by the rhythmic step of the battle song and vocals severity, anticipating the shades of folk motifs in the tunes of the Guardians Of The Realm Feat. Ross The Boss composition and the semantic shades of the Age Of Urizen final solemn anthem.