December 20, 2021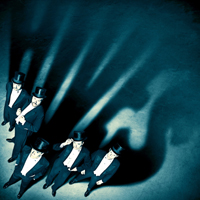 Nervously, insistently, and unyieldingly, the Come On! track begins the The Hives - Lex Hives album's musical narrative with theGo Right Ahead free-spirited unyieldingness. Then the Go Right Ahead track envelops with whirlwinds of impetuous drive.
The 1000 Answers and I Want More songs puffs up with waves of demanding insistence.
The Wait A Minute builds up the demanding vocal proclamations to the top of the musical sea. The Patrolling Days musical thriller explodes with a whirlwind of musical and vocal rebellion. The vocal part comes to the forefront of the Take Back The Toys vocal reflections. After pondering the performance, the the Without The Money song explodes with a whirlwind of unyielding, anticipating the sound of the These Spectacles Reveal The Nostalgics musical inspiration.
Time comes and intrigues in the sound of the My Time Is Coming vocals reflections, setting the atmosphere for the album's final burst of musical ury in the If I Had A Cent and Midnight Shifter tracks.