June 04, 2017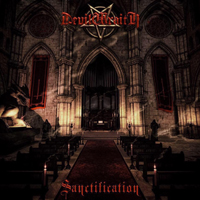 Adepts and priests nightly casts Devilwraith - Sanctification spells for what they honor over own earthly life and mortal flesh.
The title track The Rise of the Fallen opens the gates of so mysterious temple - the organ's passages leads to the shores of dreams, summoning mythical intangible spirits, circling around as imperceptible entities. Vocals immediately takes the rule in this ghostly dance, instrumental parts are circling around his phrases like companions.
After the proud and significant speeches and glorious narratives, The Conjuration of Horrors directs the musical stream into a violent rapid rush, raising symphonic keyboards passages as bright banners over the tough, powerful and energetic drive.
Sinful in thoughts and actions, monks chants The Unhallowed Gospel to tribute the fallen angels, proudly and meaningfully building vocal phrases, surrounded by a delightful whirlwind of keyboards passages and accompanied by harsh and powerful guitar riffs.
Inspiringly starting on the waves of the symphonic motif of the keyboard, The Funereal Curse develops in the vivid picture, completing the album with sublime melodies and lovely impressions ... of the fact that's the future for all of us.