December 07, 2016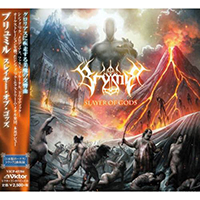 Hero shall asire his spirit to heaven, human anger have to be incarnated into a weapon, capable to serve in quest of Brymir - Slayer Of Gods (Japan Edition) !
Inspirational priest Intro dances around the fire , calling gods and inspiring warriors into battle.
And the soldiers, hearing gods appeals For Those Who Died becomes angry inside with the call of the blood rushes into the fray, despite the blizzard and a snowstorm knocked down and showered with icy arrows and rough'n'tough snowflakes.
Rotating swordmill over his head, Risen is moving forward, cutting through the way through hordes of enemies, led by the mysterious fabulous guitar riffs and sublime mythical keyboard passages that are flying over him like a ghostly spirits.
Rhythmically exposing the discrepancy support of its way The Black Hammer slowly but surely paving the way for future generations, combining the power and malice of their strokes and gentle chants with inspiring keyboards parties.
Husky monologue delivers story about the Nephilim, briefly and quickly approaching to nervousness vocal excursions, that concluding the guitar solo.
Prelude combines swarming and hovering promises of piano break of vortices of blizzards with calm and reflecting meditation by the fireplace.
All of them creates the basic foundation to the title track Slayer Of Gods. After an instrumental introduction elder voice announces that the hour has come, and the saga of the gods must answer for their actions begins. Choir of consonants and empathizes sings for the hour and the time for it in the chorus, then keyboards and violin decorate legendary tales with the growling hero and elder's spirith monologue.
Thus I Became Kronos tale flies on the wings of the wind in the clouds of representable fairy tales, quickly slicing through the space of habitual beliefs and commonly opinions, fiercely marks out resisting customs and boring predilections. Rage and anger completes with dreamy lyrical guitar bust, gently and delicately finishing this legendary tale.
Storms, blizzards and snowstorms carried Stormsoul to unimaginable goal, so fiercely and vigorously rushing through the snow clouds, ice sheets and dazzling northern lights, changing in the middle tought growling vocals into emotionaly harsh clean style for a bit.
The Rain washes foreordained prophecy, complementing the sound of the north with eastern folklore motifs.
Track ascends steadily and clearly the story of Pantheon Of Forsaken Gods, combining lace of guitar riffs with keyboard parts into a single shawl, that enveloping vocal phrases, hiding them from the blows of frosty blizzards.
Quickly and hasty, without any delay, an ancient song Battle For Pagan Might (Bonus) araises in a modern design, juggling in fighting spirit with shifts rhythms and motifs from the rapid verses to measured and melodious chorus.
Instrumental saga Hymn For The Fallen (Bonus) with spiritual chants of distant voices sums up all the tales and legends of this artwork.