February 08, 2022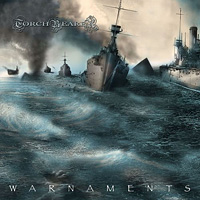 An intriguing instrumental solo sets the introduction of the Dark Clouds Gathering composition of the Torchbearer - Warnments concept album, dedicated to wars, battles and military valor in an alternation of instrumental melodic and vocal fury. The Laste Line Of Defense song creates the lace of its sound on the alternation of screaming and growling in the vocal part.
After a romantic introduction, the Burial Waters Deepsome Graves track progressively and artistically alternates musical variations and vocal transformations, foreshadowing the explosion of power and severity in the Swift Turns Of War musical thriller with notes of progressive musical echoes.
The Stale Drownings instrumental symphony brings the charm of classical music to the album's sound, anticipating the mesmerizing interweaving of melodic fragments and the furious rolls of the harsh Battlespawn musical thriller.
The fractured musical constructions of the Where Night Is Total composition fascinate with the intriguing mystery of changes and enchant with the sound of guitar solos. The Sealer Of Fates song immediately explodes with a frenetic pace of musical drive, completing the bars with sparkling melody, anticipating the sound of The Blunt Weapon final composition of the album.