June 01, 2022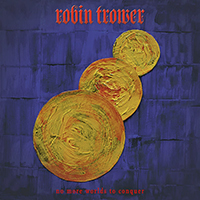 The vocal narrative of the Ball Of Fire song is intertwined with a leisurely procession of melodic musical variations. The title track of the Robin Trower - No More Worlds To Conquer album fascinates with a romantic ballad.
Vocal reflections are combined with the musical mystery of the blues in a single musical stream of the sound of the Deadly Kiss composition, developing similar musical motifs in the sad romantic atmosphere of the Birdsong ballad and giving the vocal story perseverance with the support of the assertive sound of the Losing You composition.
Wrapping enchanting motifs of romantic reflections, the Wating For The Rain To Fall song creates an atmosphere for unhurried reflections, indulging in memories in the musical story of the Wither On The Vine composition. The vocal part is brought to the forefront of the Cloud Across The Sun musical image, sometimes yielding to the dominantly enchanting guitar solos of instrumental bridges. The guitar solo of the Fire To Ashes composition fascinates with the sound of melodic delights, remaining as bright and exciting in the sound of the The Razor's Edge main motif. The I Will Always Be Your Shelter soothing ballad completes the album, dispelling anxiety and shrouding in veils of brooding tranquility.