May 21, 2023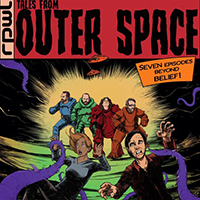 The saddened atmosphere of lyrical reflections of A New World composition turns over the first pages of the musical story of the RPWL - Tales from Outer Space album, wrapping vocal phrases in whirlwinds of guitar and keyboard variations with futuristic shades of space wanderings, weaving on its basis the bewitching lace of the instrumental part.
The introduction weaves a fascinating symphonic canvas, ending with applause from the audience and continuing with a leisurely procession of the Welcome to the Freak Show ballad, again and again emphasizing its name.
The enchanting musical variations of the Light of the World musical fairy tale envelop the artistic veils of a romantic atmosphere, complementing the musical image with the sensual inspiration of vocal lyrics in the charm of symphonic unity.
A restrained rhythmic tread with shades of freedom-loving rock'n'roll spirit is complemented by an exciting vocals narrative, intertwining in a single musical flow of the Not Our Place to Be song, developing a hopeful mood in the sparkling charm of the What I Really Need composition, complementing the stylistic variations of the album with shades of traditional and space rock music.
Wise and unhurried vocal part's reflections are brought to the fore of the Give Birth to the Sun artistic musical story, anticipating the impressions of wanderings that complete the album in unity with memories of native places, to which forever and ever will be irresistibly drawn. All this embodies the melodic grandeur and vocal charm of the Far Away from Home ballad, enchanting any listener with a mesmerizing musical atmosphere.