April 25, 2022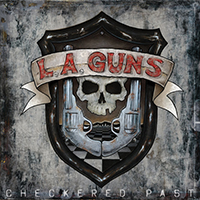 Ene, drive and unrestrained rebelliousness raises the banners of the Cannonball song, howling the furious zeal of the sound of the L.A. Guns - Checkered Past album, then bringing a bit of mid-tempo reflections with notes of blues to the sound of the Bad Luck Charm composition.
The drive with notes of mystery and Broadway echoes in the sound of the Living Right Now maserpiece fascinates the listener, further enveloping the soothing covers of the Get Along ballad with notes of country style music.
After preparation, the If It's Over Now song moves the vocal part to the pre-plan of the musical image, rolling waves of unyielding and insistent drive of the Better Than You composition.
After anticipation and anticipation, the Knock Me Down significant march marches in a vocal procession, waiting for the drive and the embodiment of the energy of the Dog composition.
The Let You Down enchanting ballad anticipates the final reflections of the album, rolling waves of freedom-loving That Ain't Why song and unrestrained Physical Itch final composition with notes of rhythmic sound.