May 26, 2022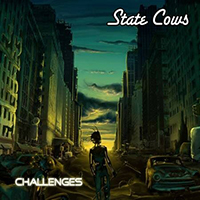 Bright, inspirational and captivating, the Borrowed Time song slowly opens the musical gates of the State Cows - Challenges album, again and again emphasizing its name in the chorus. The Darwin Awards composition combines vocals reflections and artistic musical charm thoughtfully and peacefully.
The pensive serenity of the All Over song brings the vocal story to the forefront of the musical image, anticipating the progressive musical mystery of the Deportee song with the influence of a soft and enchanting lounge music. The thoughtful Waiting For Love ballad, continuing the style of the previous composition, brings the vocal story to the forefront of the musical image.
Energetic and bright the I Got The Message song creates an inspiring atmosphere in the intro, then calms down the sound with thoughts of the verse and returns to the bright celebration in the chorus. The rhythmic narration of the Human Ladders brings creative notes of charming dixieland to the sound of the album, anticipating the dreamy charm of the Cease To Ever Have Been ballad. Rhythmically and forcefully marching forward, the Wildfire composition combines the persistence of musical rhythm and vocal inspiration for future achievements.
This edition of this album is complemented by a bonus part, which gives the sound additional charm and variety and includes the Center Of The Sun (New Version) (Japanese Bonus Track) and Georgy Porgy (Toto Cover) (Japanese Bonus Track) songs in its final chapter.