September 10, 2016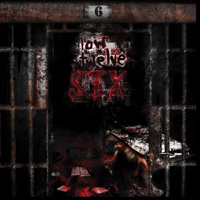 Accused, stand up - the court goes! Sir, that's not me - Low Twelve - Six is the reason of all deads!
"This is Stanley Kaskey speaking..." then follows the story about Six - they are true reason of awful things at the past times!
Thrashing blows starts to create Limb From Limb, might prevails over speed, rush affects with pressure and shakes the foundations of the universe. Then a mysterious ornate guitar party raises track to the mythical canons.
Unearth powerfuly scores his phrases in minds of the audience, anticipating their questions with his speeches. Vocal party recalls manifesto reading.
Slowly, thoughtfully begins the Resurrection, then the rhythm quickens, the speed does not allow artifices and complications. But the pace varies again and again - hammer crushes anvil in various ways!
Female and male voices pronounce one after another their announcements, then assertive and oppressive rhythm binds desire for freedom with its Etched In Flesh heavy shackles.
From the first notes Drawn And Quartered tearing all to shreds, speeding up the melody in bridges, condenses rhythm and sound in verses , putting to the test the strength of the public.
Dead Inside zealously, but slowly rotting being adopt the blows to its transship and tightened steps.
Instantly a rapid breakthrough, without any preparation - they were Bathed In Blood! Then, unbridled speed gives way to a neat and clear rhythm, grinding the remaining part of the enemies rolling vocal and instrumental mill.
Searching for exit Labyrinth can't accept too simple, it suggest only the hardest ways to accomplish this task.
Kill Floor (Bonus Track) starts the bonus part of this artwork, Sacred Oath cover The Invocation (Bonus Track) continues to explore the depths of rethinking.