October 20, 2017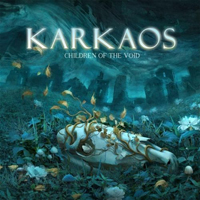 Inspiring with its symphonic ease, the introduction Babel begins enveloping the dubious dusk album Karkaos - Children Of The Void .
Continuing to cast riddles, Skymaster intrigues with an incredible combination of sensual female vocals, in a romantic atmosphere of melodic passages and violent growling, introducing a portion of drive leading the way with bright flags of melodious keyboard and guitar parts.
A huge monolith Kolossos paces slowly, imprinting every step in the centuries. In this legend, the dominant role is first taken by the sophisticated female vocals, then the growling introduces some of the disturbing mysticism, darkening the shades of the musical canvas.
Ghosts are hanging in the legendary theater building, hiding during the performances in the curtains. We are asking about Let The Curtains Fall - and the audience will see these eternal actors who do not leave this world for the sake of mentioning in legends.
The music retains a symphonic melody, but the growling sweeps the violent whirlwind of the refined drive, coming to the forefront of the music stream Pale. But the singing lady again gives praise to romantic expectations.
The title track Children of the Void continues the sound style of the album, extolling unforgettable melodies, combining them with inspirational female vocals and soft, sensual growling.
The drums taps the march, the wondrous symphony surrounds the instrumental saga Reverie with a mysterious atmosphere, in which a muffled whisper lurks.
The wave of drive sweeps from its path resistance, Tyrants should be clearly on the chosen path, proudly and arrogantly dismissing the contradictory and dissenting with his will.
A wonderful fairy tale Where Mushrooms Grow shrouds from all sides with waves of ancient and unforgettable motifs, again and again bringing to life forgotten legends.
Beginning with a stream of swift motives, the Lightbearer saga music then extols the bright and lofty images in its musical passages, alternating the lady's magical voice with the occasional insertions of severe growling.
In this The Beast composition, the main role is given to the soft, restrained and sensual growling, from time to time experimenting with its sound, supplementing with notes of screaming. The composition ending with the album Bound by Stars begins with a soft, calm guitar fingering, shading a restrained whisper in German. Then the composition turns into a wonderful melodic symphony, praising the triumph of musical charm..