May 20, 2019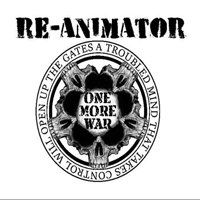 Rapidly bursting in a furious drive into the musical limits of the Re-Animator - One More War album, the title composition gives the dominant role to the vocals, again breaking into the swirling whirl of the guitar solo at the beginning of the instrumental part, but completing it with a thoughtful and significant chorus of preview.
Then the vocal thickens the gloom of the narration, pumping reflections in the Condemned to Eternity II verses, and in the chorus the waves of a furious and embittered recitative are altogether. The instrumental part again breaks in waves of rapid drive against the background of twilight rhythmic musical passages.
The pulsating musical note rolls out a viscous musical canvas before the vocals comes into being, then the vocals predominate in the Old Stinker musical image, shrouded in a wave of musical narration. The instrumental part raises the main motive in a whirlwind of majestic narration, anticipating the final part of the composition.
The Blood Soaked Vacation main motive rolls the introduction in waves, developing before the vocal entry into the most powerful and driving composition of the album. However, the vocals do not bring rigidity and rage, but emotions and impressions.
Reconsideration of the title composition One More War (Chris Clancy Remix) in a more dynamic and impetuous performance of the introduction and more sweeping and variable rhythm of the musical narration completes the album.