January 08, 2020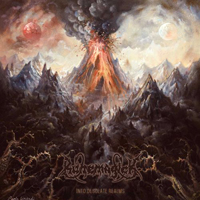 Painfully and pensively entering, Remnants of the Old then rolls in waves of the main motive, raising vocal phrases to the tops of the passages of the musical canvas. The title track continues the Runemagick - Into Desolate Realms album, pulsating with the rhythmic procession of a gloomy and stern march, completing fragments of musical variations with vocal phrases.
While preserving the epic significance of unhurried musical narration, The Opening of Dead Gates gives some shades of brooding sadness in instrumental bridges. Wrapping the vocal phrases with painful passages of the main motive, Sorceress Reburned and Decay to Nothing continues the musical canvas with painful thoughts. In the Sign of the Dragon Star complements the sound of the album with the sparkling darkness of guitar solos, and after a viscous march, the intro draws some speed up, alternating it with the gloomy echoes of a dark anthem.
Returning again to the gloomy limits of gloomy tales, Necromancer of the Red Sun nevertheless expands the album's stylistic framework, raising the gloomy blade of a furious drive at the beginning of the chorus. Instrumental composition After the Sepulchral Lava raises bewitching whirlpools of guitar solos, blowing hot winds over the gloomy atmosphere of the musical image, then Requiem Beyond the Stars returns to gloomy severity again, intertwining gloomy musical passages with inspired epic vocal part.
Approaching the end of the album, Wolves of Nocturnal Light creates a separate musical creation in this album, compressing the musical narration into a concentration of dark power and hardening the vocal part. But then the guitar solo of the instrumental bridge unclenches the musical clutches around the vocal phrases, accelerating the flow of the musical canvas to an average pace, but then again retreating to the saddened romantics of the twilight atmosphere. Ash and Silence completes the album with the muted romance of a guitar solo.