February 26, 2022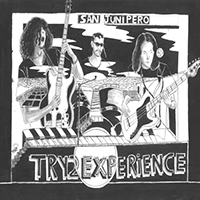 Visceral, drawn-out and pensive, the Barefoot song begins the Try 2 Experience - San Junipero album with unhurried reflections, at times raising again and again the banners of vocal inspiration and enchanting guitar solos of the instrumental section.
The Beer Whisky and Wine composition continues the musical narrative of the album with the soothing notes of musical liberation with touches of blues.
The swift whirl of free-loving rock'n'roll tune stirs the mind and calls for a long-lasting cheer on the Gil Blues song.
The instrumental artistry of the musical narrative of the Trevezzz track extends the stylistic framework of creativity and impresses with the significance of musical greatness, continuing the musical tale with the enchanting sound of the She Won't Come Back peculiar ballad combining its sense and communication with the legends of music. Bringing the vocal part to the foreground of the musical image of the Mad and Madness song, the music complements the vocal emotionality with the corresponding musical support. Unhurried and thoughtful Waterfall ballad completes the album, summing up its musical narrative and charming with the final instrumental part.