February 18, 2021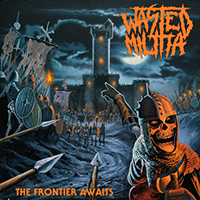 Ominous gloom wraps around guitar variations of the intro, then rushes into a frantic pursuit with a broken vocal narration that begins the Wasted Militia - The Frontier Awaits album with the union of darkness and drive, again and again accentuating the title of the Visiones De Muerte song in the chorus. Brooding intro motifs complement the harsh vocal reflections, then weaving together with them in a gloomy unity. But the Hammerfist guitar solo kicks up a fast-paced wave of drive, crowned with tunes of vocal associates. Once again, painful musical meditation complements the dark vocal screams, but then the Total Slaughter music accelerates the rolling tempo, crowned with vocal narration.
The dictator's monologue ends with solemn tunes and the roar of marching soldiers. This is followed by a harsh musical canvas of the Under the Mark of the White Hand gloomy battle anthem, continuing with the appeals of a tough and harsh battle march. Whipping up the mid-tempo harshness into the intro, then the Killing Machine music and vocals chase in the frenzied fury of a fast-paced musical thriller. The guitar solo of the instrumental part soars in an irresistible whirlwind of bright musical impetuosity. The guitar solo sets some elements of progressive artistry, but then the F.o.a.d. music and vocals are striving in an uncontrollable burst of playful rebellion.
Intriguing with a twilight musical mystery, the From the Frontier to the Grave song then pulses with a dense drumbeat topped with harsh guitars riffs, then surging into an unrestrained whirlwind of frantic drive combined with vocal phrases. The Thunderdome immediately explodes into an irresistible whirlwind of musical thriller, winding rhythm and vocals in a spiral of sparkling guitar experience. The brooding ballad gives the introduction an atmosphere of romanticism, but then the Flamethrower song embodies the meaning of the title, combining the harsh procession of the dark anthem of instrumental bridges with the emotional outbursts of vocal fragments, completing the album with a unity of contrasts.