September 20, 2020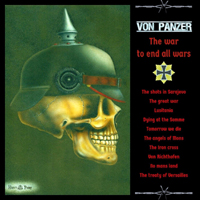 Piano notes unleashing the crushing drive of the The Shots in Sarajevo guitar passages begins the Von Panzer - The War to End All Wars concept album. Explosions, shots and war continue The Great War musical narration, then pumping up the waves of a mid-tempo march, dense and harsh waves, intertwined by the thoughts of a guitar solo, intertwining their narrative. These responses then develop into the theme song for a concept album dedicated to the idea of the First World War.
Progressively and kinky setting the key of the intro Lusitania then explodes with impetuous drive. A painful, pensive and unpleasant twilight begins the narration of the Dying at the Somme composition, combining musical pensiveness with vocal twilight. Vocal narration rises in the epic significance of the Tomorrow We Die solemn hymn. The Angels of Mons continues the onerous narrative of the previous track, creating an even more majestic lace of guitar solo.
The rhythmic pulsations of The Iron Cross battle march complement the saddened romance with notes of drive and intolerant liveliness. Painfully, severely and unhurriedly the Von Richthofen rolls out a musical canvas, long and unhurriedly waiting for the vocal introduction. Intriguing the dark intrigue the No Mans Land then brings The Treaty of Versailles instrumental tale to the fore.