August 12, 2020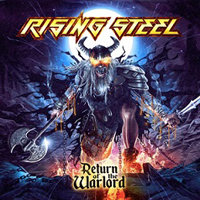 Starting the Rising Steel - Return Of The Warlord album with a whirlwind of restrained drive in verses, Breaking The Silence is raising the flags of an epic saga in the chorus. After the mesmerizing melody of the guitar solo of the intro, the music of the Monster song slows down the tempo, marching along the edge of the mid-tempo march, preferring rhythm and melody to drive, accelerating the tempo after the guitar solo of the instrumental part.
Bringing the vocal part to the forefront of the musical image The Watcher supports the vocal directions by developing musical passages. The Dead Or Alive retains the dominance of the vocals, hardening the sound of vocal phrases with emotion and transforming the sound of the chorus with a romantic ballad. Twisting the vocal part in vortexes of musical twilight, the Straight To Hell track creates an exciting musical fairy tale. The Evil Master walks in unhurried significance, telling a mesmerizing legend.
Band's self-titlad Rising Steel song accelerates the tempo for a bit, but continues the sound on the verge of a mid-tempo march, complicating the rhythmic vocal round dance. Carrying away with vocal experiences, the People Of The Moon weaves them in a rolling whirlwind of the main motive. Expanding the stylistic framework of the album the Never Give Up song brings new shades of epic romanticism, anticipating the flow of the impetuous drive of the Hell's Control final composition of the album.