May 19, 2022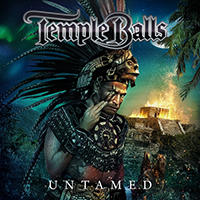 The mentor's chants roll out the musical canvas for the vocal procession of the Infinity song, which begins the musical story of the Temple Balls - Untamed album, thoughtfully and inspiringly raising the banners of significance in the chorus. The Kill the Voice composition begins with an exciting guitar solo, captivating in dreams and weaving the musical essence of the main motif.
Bringing to the fore the sound of vocal singing, the Distorted Emotions composition sums up the vocal phrases with bright guitar solos, maintaining the primacy of the vocal part and in the sound of the Pauline song, captivating the music with vocal appeals to follow the path indicated by the vocal part.
Rolling the intriguing mystery of the twilight musical mysterious fairy tale, the Ball and Chain composition fascinates with musical mystery, after which it intrigues with musical mystery and vocal mysteries of the verse, raising the sparkling triumph of musical grandeur with the Leap of Faith hit chorus. Twisting the twilight mystery of the musical sound in the intro of the Hoist the Colours composition then pierces this haze with vocal rebelliousness and the bright melody of the guitar solo.
The bright guitar solo takes you to the dreamy expanses, combining in sound with the inspired vocal appeals of the Seven Seas of Wonder song, pushing the Badlands vocals tunes to the forefront of the musical image and anticipating The End final composition.