October 09, 2019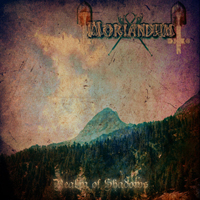 The mesmerizing mystery of the Moria epic symphony with wordless chorales is the introduction to the Beneath The Misty Mountains song, which begins the Moriandum - Realm Of Shadows album with a swift drive, braiding the stern musical passages with folklore shades of guitar riffs and enveloping the fairy-tale atmosphere of keyboards symphonies. In the middle part, the composition is transformed into the enchanting echoes of a hymn honoring ancient legends and tales, after which it pumps the waves of a pulsating mid-tempo march.
The appeals of long-standing legends weave the enchanting lace of the introduction, which is transformed into a mesmerizing atmospheric musical essence of The Ruler main motive, which captivates the vastness of fairy tales. Having fun and playfully dancing, Foundation Of Wrath envelops in the atmosphere of a vibrant festival, introducing background shades of thoughtfulness and gloomy doubts. Bringing mysterious doubts to the forefront of the musical image, the Lunar Eclipse instrumental composition creates a mesmerizing sensation of being in a fabulous atmosphere and participating in epic chronicles.
Swift drive returns vocal phrases to the musical expanses of the album, initially twisted in the unbridled vortices of twilight intimidations, transformed as the Winter's Return dark anthem in instrumental bridges, anticipating the mesmerizing melody of the chorus. Fascinating the mystical atmosphere of entry, Eternal Grief with the beginning of the vocal part is transformed by the foggy haze of a bewitching mystical anthem.
Epic atmospheres of the heroic saga envelop mesmerizing mantles of melody, music and vocals of the Hammer Of Doom song are marching on the verge between a valiant march, mid-tempo composition and a bard ballad. Thunderbolts and the drum roll of The Dying End combat march complete the album with cries of readiness for battle, weaving a mesmerizing lace of guitar solo.