January 28, 2018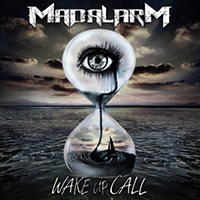 Intro creates mysterious prerequisites for the beginning of the title track of the Mad:alarM - Wake Up Call album, beginning to create a musical picture of pensive romanticism, then thickening the colors and connecting the guitar power and growling vocals to create a more meaningful and deeper sound image. In the instrumental part, the waves of progressive drive create the semblance of an artistic storm, but romance returns a dominant position.
Thoughtful reflections of clean vocals sets the main semantic load of Meanings, growling sharply and emotionally complements this story with its harsh phrases.
After doubts and meditations in the Hysteria introduction, the waves of the drive are swept in the verse, once again indulging in meditations in the bridge and the chorus itself, pure vocal meditates in the Buddhist ritual.
Introducing shades of blues and oriental folk motifs Trapped enchants with its original sound, inspiring to listen to this artistic sound.
Shed Skin introducing in the same style, in a verse, sweeping the furious stream of drive, sliding into the restrained meditations of the reflections of the pure vocal that brings in the element of the lounge.
The furious drive immediately makes Final Road music stiffer and more severe, artistic breeches and phrases of pure vocals bring a touch of reflection, leading to a brooding chorus.
Thinking about the destinies of each and every one is combined in the enchanting atmosphere of a thoughtful Throne Of Justice ballad, enveloping the musical image with romantic reflections, over which the sequins of symphonic passages are hovering. Thickening the fog of romantic meditations into the introduction, Scattered In The Sky then again gives thought to, creating cozy images of comfortable conditions.
A severe fog of painful thoughts combines a stiff musical canvas of Ocean Of Chaos with severe vocal reflections, grueling cutting off enslavement and smashing disgusting templates to smithereens.
Returning to one of the tracks of the album - and it was expected to hear her more romantic and thoughtful, that in this treatment Shed Skin (soft version) is rethought by soft female vocals, it finishing the album with such dreamy reflections, enveloped in the soft melodic atmosphere of the romance.