May 09, 2021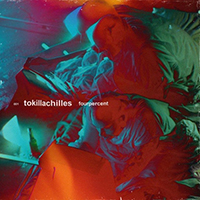 The rapid vortex of the irrepressible drive is raised by the vocal frenzy on the top of the waves of the musical drive of the title track of the To Kill Achilles - Fourpercent (EP) release. But then the instrumental bridges attach notes of thoughtfulness, complementing the vocal diversity by the background speech. But then the music is again assumed in the deadly dance of a frantic drive.
A bright guitar solo asks an inspirational intro's mood, preceding the emotional greatness of vocal ascension in sensual nervousness of experiences of the Oh God, I've Never Felt This Low song's vocals part.
Strog premonitions before the onset of the 21:36 specified time, the waves of a fierce musical thriller are injected, somewhat retreating before the vocal experiences, then returning to alignment with vocal nervousness.
The violent melodizer of the guitar solo is twisted in a single spiral in the whirlwind of the Venom verse's main motive. But then the chorus slows down into the procession of a solemn question. But then the vocals in muted reflections complement soft guitar notes that anticipate the melodious ascension of the guitar solo and the final chorus. The Beautiful Mourning vocals recitative by emotional monologue sets the mood of the final album's composition intro, that ends this release of the impressive unity of melody and sensuality.