March 27, 2016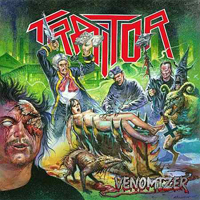 26.04.1986 some land was poisoned by radiation. Chernobyl (Intro) starts story about it.
Traitor - Venomizer. Reactor IV continued this dark story. Sheltered beneath sarcophagus monster released its poison into the world. Words and numbers - no matter and seemingly small, but how much has resulted! Quickly and ragged begins Torturize, asks you "have you ever tortured?", fast pace slows down to the middle of the track - slow grueling torture more effective. But the instrumental part is over - torture fast again!
What causes radiation? Toxic Death! Description of evil intoxication comes at a rapid pace. You was't ready? Burn portraits of Lenin, Stalin and Gorbachev!
The slow, viscous beginning - no, not "the south of heaven"! This is another humiliation of rulers dignity! That's Lords of Lust Unusual rapid runs, without breaks - Venomizer can't stop its pace and evil done by it over the land of its being! Teutonic Storm calls the thrash in chorus...many times! War, Death & Terror appeals to the mind of mankind - which so diligently destroys itself!
Slashin', beatin' the rhythm in your head start of the Chemical Violator should give food for thought about the future. After such a start to be nervous monologue - about violator and etc.
Pace tempo starts Hell Hammer (Traitor, Pt. II) and continues it after being joined by vocals. Hammer accelerate its blows after the chorus till the instrumental part.
Executioner make its deeds with scrap rate and frantic pace. Instruments complete it in pace rhythm.
Lord of the sorcerers? Lord of wizards? Hexenmeister (Bonus) indicates to all of us - where's the band from!
Criminal - Fear Itself begins from the Intro.
After a slow&mysterious intro band shows its teeth in Down Driven. But do not expect a very rapid pace - that's only a preparation for further breaking up!
Someone said something to the radio ?! Piece of shit - False Flag Attack tells much-much more. Shock Doctrine accelerates that story untill its bridge.
Crushing, chopping, unhurried start in the The Needle and Knife. it tells, that "you need a scalpel to become someone else". Will the so slim and trim tool helps?! Concrete mixer!
Conscience yells, demands attention and to listen to her ?! Listen to Scream of Consciousness! Quickly and dense initially Summoning The Apocalypse, slows down a bit for vocals as it may seem.
Adagio in the verse of The One Who Speaks at Night, slowly - in the chorus and bridge. "You must prepare", they've said to you!
Paced Animals to Gods leads animals to the gods? Oh, don't result that! Just to the core endin'!
Jump! Jump! Jump! Ups, that's the start of the Deep In The Rot. Intro leads to such ideas, but the chorus stringy and pierce thoughts with its slow motion.
Someone conducted a life in the best possible way - school, college, work, family, all's well!Wasted Youth not about them. Or about them - from a different perspective. That's your choise!
The hack all to the Carne Molida? It is possible and not difficult - especially when the result will find much later than you get to the Mexican border