January 09, 2021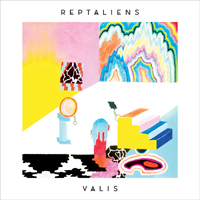 The twilight mystery of the Sunrise, Sunset song appropriately begins the musical narrative of the Reptaliens - VALIS album in an atmosphere of anticipation of coming changes, eclipsing the inspired tunes of the singing lady in an enchanting dance with the musical tunes of the Venetian Blinds song.
The musical narrative goes on to sound a dylogy - first Shuggie I captivates with dreamy vocal musings, then Shuggie II develops the sounding motifs into a full-blown musical composition. Entering with unhurried reflection, then the vocal part brings echoes of dreamy playfulness to the sound of the Baby Come Home song.
The musically enchanting Changing romantic ballad envelops the atmosphere of sensual memories, then transforms into the sparkling reverie of the Echo Park song. The Give Me Your Love composition brings to the sound of the album echoes of cosmic currents and futuristic musical variations of romantic chanson.
Romantic tones of vocal inspiration pave the Song for Moon way for the final section of the album, which continues with the progressive and artistic charm of the lounge of the Wake Up song, the romantic charm of the wistful Sweet, Innocent You ballad, and concludes with the mesmerizing country style of the Heather track.