March 30, 2018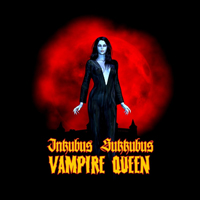 Instrumental composition Bathory with thin and sad note that is piercing musical canvas by experiences and sadness, built up under the influence of classical music, begins the Inkubus Sukkubus - Vampire Queen conceptual horror-style album with a thoughtful haze of reflections that set a lot of unsolved mysteries with its mystical essence. The epic introduction recreating the experience of centuries and generations precedes composition Let The Night Last Forever, which greatly simplifies the ornate and mysterious introduction, repeatedly accentuating the title in the chorus.
Confessions, confessions and emotions in the sensual verse convey an alarming female vocals, in choruses the choir of adepts indicates the reason for these thoughts - Angelus Mortis, nothing else.
The Nature Child leitmotif strings vocal phrases to their sound, they like a spiral moving along the entire composition, spinning brighter and meaningful in the choruses.
So mysterious romance in which the soft acoustic guitar accompaniment and sensual vocal phrases Dancing The Night Away complement bridges on a harmonica. The eerie atmosphere confuses the phrases of the male vocals in the mysterious lady, the female vocals express an anticipation of misfortune and raise hope, but the chorus of skeptics repeatedly repeats Here Come The Dead, indicating that disasters lie in wait from everywhere - they are already coming here.
A romantic Angel Of Lust introduction suggests waiting for a charming ballad, but the vocals take the mid-tempo composition, a mix of synth-pop with artistic female vocals.
The introduction In The Darkness And The Rain pushes the expectation of heroic trials, the main motive is the influence of medieval bardic sagas, but the style of the previous composition keeps the general character of the sound on the glossy covers of modern magazines - even though it's comic books and horror stories.
Acoustic guitar creates the atmosphere of Wolf Boy bardic ballad, female vocals restrain mystical revelations - but at the end of the song the vague images of unknown fairies arise from non-existence, echoing their tunes accompanied by the vocal part.
Title track Vampire Queen sums up the conceptual saga, beginning with a gloomy orchestral introduction, reviving ancient legends about the undead souls of the undead. Further, rhythmic musical structures complement the image of the composition, over which the capricious clouds loom over the notes from the introduction.