August 17, 2020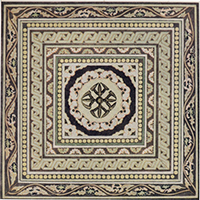 The enigmatic instrumental suite A Toast (To All of You) opens the Horrid Red - Banquet in Blue album with mystery and soft hidden charm, continuing the musical narration with the addition of vocal playfulness that accentuates the mood of Unknown Treaties song. The 40 Thousand Sleeps continues the mood of the previous composition, complementing the vocal recitative with echoes of acoustic guitar passages that bring the spirit of chanson music.
Once again the Joy Inside envelops with the atmosphere of an instrumental symphony that sets the atmosphere of a futuristic electronic lounge. The dancing You Climbed to Daylight rock'n'roll spirit is crowned with brooding vocal phrases. The On Glass continues the musical narration with muted beats.
Rhythmic pulsations envelop in a psychedelic atmosphere, while the Colored Lights at Dusk song's vocals recitative complements this by expanding the musical style. The Between Impulses musical romanticism acts as a backdrop for vocal reflections. The instrumental mystery of the Forged Letters composition completes the album.