August 15, 2020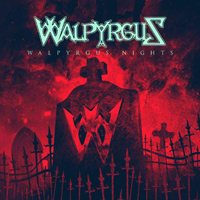 Entering with persistent drive, The Dead of Night weaves music and vocals in a mesmerizing round dance, shrouded in a twilight haze of mystical mystery and uplifting the hit melody in the chorus. Bringing guitar solo to the forefront of the Somewhere Under Summerwind intro, song then points the way to the main motif with a vocal line, continuing the Walpyrgus - Walpyrgus Nights album's sparkling saga.
After a dark introduction, the Dead Girls elevates the vocals to the top of the musical image. Complementing the intro music with the sound of a bell the Lauralone rolls over with mid-tempo pulsations, accentuating musical transformations with vocal phrases.
The vocal part brings a romantic dreaminess to the sound of the Palmystry song. The viscous guitar solo of the She Lives intro ends with an inspired vocal narration topped with the symphonic artistry of the keyboard passages.
Recalling the sound of the Light of a Torch (Witch Cross cover) legendary song, the band performs their interpretation of this composition and sparkling relief of the sound. The title track Walpyrgus Nights concludes the album, becoming its most diverse and impressive song - combining an epic ballad and a fast-paced musical thriller in a single composition.