October 04, 2021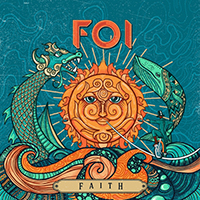 Shimmering guitar solo is transfused with bright sound with the support of progressive brokenness of rhythmic guitar riffs of the Battles composition. The Verb track continues the musical narration of the Foi - Faith artistic instrumental album, progressively and fascinating combining melodium with extensions of modern musical tendencies.
Harshly stepping with the waves of the main motive, the Trenches sometimes is setting its path in the bright whirlwind of musical inspiration. The Gaps brightly and excitingly fascinates to follow the waves of a melodic musical charm and a bright musical atmosphere.
Inspired by the impressive and artistic guitar solo, the Balance then intertwines many musical variations in the lace of progressive musical discoveries. The Lift combines a guitar drive with an extension of medieval epic fairy tales, complementing the symphonic effects of classical music in a joint union in the image of a musical fairy tale.
Evristently, the Evidence composition will slams with the main motive waves, rolling with them a confident direction of the development of the musical direction. The Freedom track completes the musical narration of the album with confident final appeal.