July 03, 2021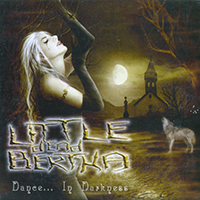 Intriguing the sound of the interrogation of the Reign Of Eternal Night song then develops this musical artistry in the twilight symphony, starting the Little Dead Bertha - Dance... In Darkness (EP) release with the unity of musical variations with a variety of vocal aspects.
The impudent impatient waves of the musical drive, the Angel And Pain composition crowds this unrestrained impatience of the conclusions of the symphonic atmosphere. Next, anger, rage and melodism are combined into the sound of the musical stream. In the vocal part alternates the answers of the harsh rod with questions of a singing lady, indulging in doubts and uncertainty in the chosen path.
The My Nacked Ideal track's music combines the male and female vocal in the dark waltz of an intriguing romantic essence.
The acoustic guitar begins a romantic story of the Wolf Dance song, continuing the music story of the release of sad romantics, completing it by unresolute mysteries and inspiration of the coming discoveries and musical expectations of romantic inspiration.