June 16, 2022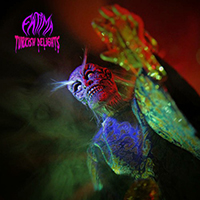 Persistently, confidently and indomitably the Charly Chang composition begins the musical narrative of the Fatima (FRA) - Turkish Delights album, enveloping the accentuation of its name with the atmosphere of oriental motifs, continuing and developing a similar musical style in the sound of the Saliva Bath song, giving the vocals more assertive and rebellious shades.
After the preparation in the introduction of the Toy Poodle composition persistently and confidently puts the vocal part in the foreground of the musical narrative, retaining the dominant role of the vocal part in the rebellious vocal shouts of the Concubines Of Salem song.
An enchanting string chime and a mysterious vocal story bring a spicy atmosphere of oriental fairy tales and legends to the sound of the Gooey Syrup musical saga.
After the mysterious curves of the musical variations of the intercession and vocal emotionality of the verse, the Peter Pan Tights composition fascinates with the mysterious darkness of the final part, accentuating, condensing and bringing to the background plan oriental folk motifs in the sound of the Rub The Lamp song, complementing with rebellious vocal melodies, combining several styles and genres in sound in a single lace of musical artistry. The Hyena composition completes the album with its most grim and harsh musical artwork.