August 13, 2020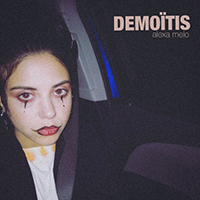 The romantic Digital introduction intertwines with a playful mystery of vocal reflections, then explodes into a whirlwind of emotion and fury - indicating the ambiguity and versatility of the Alexa Melo - Demoitis album's music. The acoustic guitar enchants with the romanticism of its sound, weaving around the vocal phrases a bewitching lace of the Chemicals brooding ballad.
But the Russian Roulette song brings back emotional experiences by weaving blues echoes and country-style in a single dance of musical intrigue. Whipping up a vague alarm with the introduction, the Man In The Window vocals supplement this musical atmosphere with the sound of their experiences. The Evergreens develops this atmosphere with encouraging vocal tunes that add a touch of hope to the vague anticipation.
The Flightless Bird music rolls in waves of rhythmic march, weaving vocal reflections with echoes of musical passages in the psychedelic obscurity of a mysterious dance.
Bringing vocal narration to the fore of the musical image the Electricity expands the stylistic frame of the album. The Hopeful song closes the album with the romantic reverie of a sad ballad.