July 01, 2020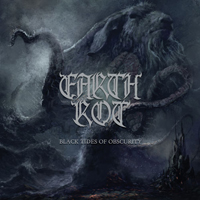 The mysterious intrigue of the Dread Rebirth introduction is replaced by a mid-tempo march, topped by a vocal part, alternating screaming and growling. Then the music accelerates the pace, while maintaining a melodic charm. The obscure whisper of creaking screaming continues the Earth Rot - Black Tides of Obscurity album with a mystical mystery of New Horns composition, alternating similar fragments of mystery with a dark anthem of severe growling. The mysterious whisper is transformed by the rhythmic pulsations of the Towards a Godless Shrine mid-tempo march, fascinating with the melody of guitar solos of instrumental fragments. The symphonic grandeur of the Unparalleled Gateways to Higher Obliteration keyboards introduction continues with an epic combination of a brooding vocal narrative and the twilight of a mysterious musical symphony. The vocal part comes to the forefront of the musical narration of the Ancenstral Vengeance gloomy tale, subordinating the musical accompaniment to its variations.
The medium-tempo The Cape of Storms narration with shades of hard blues continues the sound of the album, creating an atmosphere of reflection and memory. The guitar solo of the instrumental part even more clearly accentuates this influence. Beginning with the furious musical thriller, the Serpent's Ocean then calms down somewhat the musical fury and brings to the forefront the vocal significance. The Mind Killer cry of vocal rage stirs up a whirlwind of musical drive, then raises on the crests of the waves of a mid-tempo march, sometimes soaring with swift musical streams.
The Unravelling Vapour of Sanity continues vocal dominance in the musical image, indicating with vocal phrases the direction of development of musical variations. The Out in the Cold completes the album with yet another manifestation of the echoes of a lighter blues.