September 02, 2020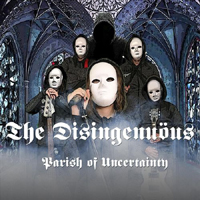 Beginning with rhythmic pulsations with background vocal reflections in verse, the I'm so Lost song raises the banner of emotions in the chorus, dividing the vocals into background grinding and inspiring ascension. The What to Do, What to Say track brings the vocal duo to the forefront of the musical image, continuing the The Disingenuous - The Parish of Uncertainty album with a leisurely pulsating march. Starting off with a sublime keyboard solo, the Amaze then lays out a lounge sound with a combination of male and female vocals in a duet.
Expanding the stylistic boundaries of the album, the Shame on You brings the rebellious influence of punk rock to it. Then the Shells in Sand continues the musical narration in a leisurely twilight with blues influences. Male and female vocals are combined in a duet, giving the sound of the Blackwater Calling composition a certain playfulness. The vocal reflections of the Don't Fear You song are combined with the dominant pulsations of the bass guitar in a rhythmic march, extracting the musical background with a guitar solo.
The romantic musical motives are first complemented by the singing lady's vocals, then alternating in the foreground the Burn vocals parts of female and male vocals. The vocal part comes to the fore of the musical image of the Let It Go composition, combining the thoughts of the verses and the rebellious exclamations of the name of the song in the chorus. After the intriguing mystery of the introduction, the Dark Summer walks in a mid-tempo march of a twilight anthem, complemented by sophisticated female vocals.
Children's exclamations create an atmospheric basis for the intro, then the music walks with a gloomy reverie of dark reflections, over and over again accentuating the title of School of the Damned song in the chorus. The union of female and male vocals in a mesmerizing dance of a vocal duet is enveloped in the romantic musical lace of the Breathe Again brooding ballad. The Rhaid I Ni Godi song ends the album with a stern, rhythmic procession of a dark anthem, combining a vocal duet with a departure from English lyrics.