July 06, 2021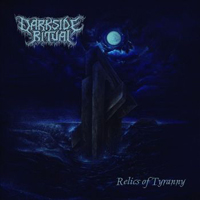 The Subspace Ghoul instrumental intro of the Darkside Ritual - Relics Of Tyranny album specifies the intriguing atmosphere, anticipating the stylistic unity of musical genres, which combines the mystical atmosphere and technical musical improvisation and the programming rhythmic solutions are already in the sound of the Dreaded Nightfall composition.
But the rage of the musical drive of the Reside Amongst Flesh song is faster than the vocal party, and complicates the progressive artistry of musical decisions, waking up this combination of the mystical atmosphere of twilight keyboards simphony. The Monolith Of The Macroverse track rushes into a rampant pursuit, setting the sound of a violent musical thriller, sometimes varying the tempo of the thinking of instrumental bridges and progressive musical complications of rhythms.
Tightly, significantly and confidently the Solemn Gathering composition is rolling the march of the mid-tempo anthem with a harsh growling vocals, sometimes giving this suprame solemnity shades of vocal and musical variations. The Spires Of Anamnesis is running the banners of the epic musical saga, whining thoughtful musical legends with the covers of ancient fairy tales, anticipating the acceleration of the musical race. The Nucleic Premise puts the final point in the release, significantly, responsibly and confidently driven all rhythmic pathes by vocals speeches.