October 31, 2021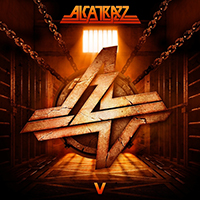 A bright whirlwind of musical extravaganza wraps bright stream of musical sparkle around the inspired vocal phrases. In the instrumental part of the Guardian Angel song, the music raises the banners of symphonic grandeur. The Nightwatch intrigues with a twilight mystery in the intro, then creates an epic atmosphere with background symphonic keyboard passages, continuing the Alcatrazz - V album with a vivid musical impression. After a vigorous guitar solo intro, the Sword of Deliverance battle march builds up the mid-tempo drive, accentuating the title again and again in the chorus. The Turn of the Wheel song partially continues the mood of the previous track, but somewhat accelerates the musical tempo, combining echoes of a musical thriller with romantic fragments.
Powerful rolls of the guitar solo and drum roll along with the proclamations of the comrades-in-arms create the mood of the sound of the Blackheart valiant saga. The Grace of God track weaves music and vocals together in a spontaneous dance, creating a vivid and artistic impression of a mesmerizing musical unity, raising vocal reflections to crests of musical waves in the chorus. A drumbeat combines with a visceral and drawn-out guitar solo intro, then continuing with an epic vocal narrative into the composition of the Return to Nevermore dystopian tale. The dusky atmosphere of the Target musical saga is crowned with swirling keyboard symphonies and punctuated with the enigma of a vocals storyteller.
The mid-tempo nomadic melody of the intro is transformed by the sublime sound of the Maybe Tomorrow romantic ballad with vocals introduction. The guitar solo mesmerizes with an intriguing mystery, intertwining in the further development of the House of Lies song with vocal reflections in a mid-tempo dance. The Alice's Eyes composition immediately brings the vocal part to the forefront of the musical image. Beginning with the acoustic brooding unity of piano and dreamy vocals, the Dark Day for My Soul balladconcludes the album with variations of symphonic sublimity, complete with elements of restrained drive.